For the first-time ever, AXN stars past and present have aligned to put on
a virtual extravaganza of epic proportions. Hosted by celebrity fan favorites and
featuring some of the biggest names in entertainment such as
Afgan, Michael Bolton, Cosentino, Cyril Takayama, David Foster, Anggun and Mel C,
step into a world of spectacular sights, otherworldly sounds and endless laughter, curated to lift
your spirits in the greatest celebration of hope for Asia and the world yet.
Presented by the Ministry of Tourism and Creative Economy Indonesia, and streaming live on
AXN Asia's YouTube channel and Facebook page, don't miss the Ultimate Virtual Showcase.
Catch AXN All-Stars LIVE on November 28, 8pm (7pm JKT/BKK) on AXN Asia's Facebook page or
YouTube channel, or catch the telecast on AXN on December 1 & 2, 8.50pm (7.50pm JKT/BKK).
APPEARANCES BY
Afgan
One-time winner of Best Male Vocalist at the Indonesian Music Awards, Afgansyah Reza – better known as Afgan to his legion of adoring fans – is a multi-talented singer, songwriter and actor.
Michael Bolton
Pop icon and legend of the music industry, Michael Bolton has won 6 American Music Awards and 2 Grammys, while he most recently served as Judge on the Asian Dream.
Cosentino
Known for his death-defying feats and escapes, the elusive Grand Illusionist Cosentino has been bringing his personal brand of magic to the streets of Asia, wowing audiences on magic show The Elements: Cosentino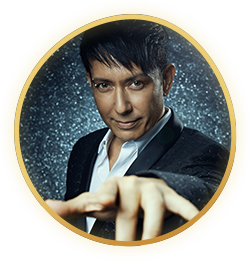 Cyril Takayama
From the streets of Japan to the corners of the Internet, Cyril is famous for his pioneering performances of mind-blowing magic all over the world, turning street magic into an art form wherever he goes.
David Foster
16-time Grammy Award winning producer and musician with a keen eye for talent, the world-renowned Hitman David Foster has been spotting Asia's brightest and best as Head Judge on the past 3 seasons of Asia's Got Talent.
Anggun
A consummate performer and the world's Best Selling Indonesian Artist, Anggun has been nurturing and inspiring Asia's next generation of stars as a Judge on the past 3 seasons of Asia's Got Talent.
Mel C
Former Spice Girl and record-selling artist, Mel C raised the bar for aspiring Asian talents, pushing them to greater heights as Judge on the inaugural season of Asia's Got Talent.